Wisteria plants are features of many properties in South West London and July and August is a perfect time for our tree surgeons to perform a summer prune. When grown on the wall of a house or a boundary wall, a wisteria can grow excessively and potentially cause damage to brickwork and roof tiles. Twice yearly pruning can not only prevent damage but also allow the plant to flower more prolifically and limit the development of foliage, which can cause shade and create debris.
The Benefits of Good Wisteria Maintenance
Wisterias can be left to ramble unchecked where space allows but will usually flower more freely and regularly if pruned twice a year. The removal of growth in summer allows better air circulation and more sunlight to reach the base of the young growths, encouraging better ripening of the wood and improving the chances of flower bud formation. Restricting the amount of vegetative growth and encouraging short, flowering spurs will result in more flowers.
Wisteria Summer Pruning
A summer prune involves cutting back the whippy green shoots of the current year's growth to five or six leaves after flowering in July or August. This controls the size of the wisteria, preventing it getting into guttering and windows, and encourages it to form flower buds rather than green growth.
Advice for Pruning Wisteria in Winter
In winter, the same growth should be cut back to two or three buds in January or February (when the plant is dormant and leafless) to tidy it up before the growing season starts and ensure the flowers will not be obscured by leaves.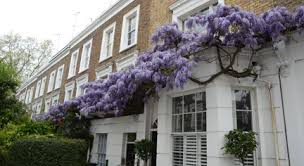 Our London based tree surgeons can prune even the most inaccessible wisterias. and would be happy to offer advice and provide our expertise to exploit your wisteria to its full potential.
Call us now to arrange an appointment!