What is tree pruning or trimming?
Trimming, or pruning, a tree involves reducing its silhouette in order to improve its shape and structure. Pruning is also necessary to remove dead or diseased branches or to scale down future growth and limit size.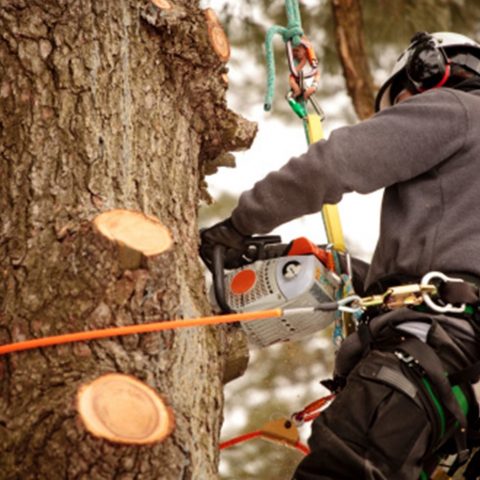 Trees are also pruned to reduce the amount of shade cast, which is especially important in smaller London gardens. Some trees need to be pruned to reduce the level of wind resistance or to provide clearance between the tree and a structure. Branches must be removed if they pose a threat to power lines or nearby windows. Neighbours may also be inconvenienced by unfettered growth which may overhang their property.
Hedges also need to be trimmed regularly and Take a Bough Tree Care can schedule regular hedge trimming visits to keep your hedge neat and healthy.
When is the best time of year for pruning
The optimum time to prune a tree is dependent on many factors, such as the maturity and species of the tree. The reason pruning is required is also a factor. A dangerous tree must always be dealt with immediately. A qualified tree surgeon will be able to discuss the best plan for your tree and to carry out the work at the correct time.
How often should trees be pruned?
Ideally, a tree should be pruned every three to five years. A correctly pruned tree will retain its shape longer than a badly pruned one as proper pruning will limit the reaction and regrowth explosion that can permanently damage a tree.
Can I prune large trees myself?
It is inadvisable to prune your own trees for several reasons, firstly health and safety. Tree surgeons are trained and licenced to use the machinery necessary as well as having the equipment and experience to climb safely. In addition, they carry sufficient insurance to cover any potential mishap.   Homeowners risk being killed or injured falling out of trees especially when using ladders to access the canopy rather than climbing with ropes, or being injured with improperly handled chainsaws. There is also the risk of being hit by falling branches.
It is illegal to damage trees with a Preservation Order or those containing bats or nesting birds. The penalties for disregarding these rules are severe.
What are typical costs for a tree pruning service?
Take a Bough Tree Care give free quotations and expert assessments in response to every enquiry and will discuss your needs at that time. The eventual cost will depend on the individual circumstances of the job but you can rest assured that your tree will receive expert and careful attention and that all the debris will be removed and disposed of in an environmentally approved site.
What should I look for in a tree surgery company?
Any tree surgeon should be properly licenced and insured and be able to make an accurate and knowledgeable assessment of the work your tree requires.
Our tree pruning services for South West London
If you have trees in your London garden that need pruning or trimming, Take A Bough Tree Care would be delighted to offer free, expert advice on any aspect of tree care and work in the following areas – the London Boroughs of:
Lambeth,
Kensington and Chelsea,
and Kingston
As well as the towns of:
Battersea,
Chelsea,
Balham,
Earlsfield,
Southfields,
Stockwell,
Roehampton,
Streatham
Click above to give us a call about your tree trimming and pruning needs, we will be happy to advise!